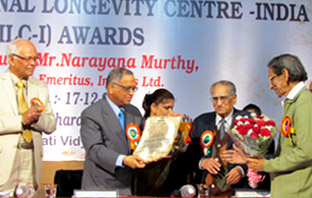 S D Phadnis receives 'Jeevan Gaurav Puraskar' by International Logevity Centre, India; at the hands of Mr Narayan Murthy.

Highlights:

1951: First humourous cover on Huns magazine
1952: First humourous cover on a Diwali Special issue of Mohini.
1954: Recieves Outstanding Editorial Art Award by Commercial Artist's Guild (CAG), Mumbai.
1965: First exhibition of coloured originals, Jehangir Art Gallery, Mumbai.
1966: Laughing Gallery held in New Delhi. Inaugurated by former Indian President Zakir Hussein.
1970: First book of select cartoons, Laughing Gallery published.
1987: University Grants Commission (UGC) broadcasts S D Phadnis' programmes on National Television.
1997: Chitrahas and Laughing Gallery tours the US and the UK.
2000: Su. La. Gadre Matoshri Puraskar, Mumbai.
2000: Marmik Puraskar, Mumbai.
2000: Ravi Paranjape Foundation Award, Pune.
2001: Lifetime Achievement Award, by Indian Institute of Cartoonists, Bangalore.
2006: Invitee participant in 'Cartoons from India' exhibition at Frankfurt World Book Fair.
2011: Interview (with pictures) on TV channel IBN Lokmat, in 'Great Bhet' series.
2011: First Huns Puraskar by Huns Publications.
2011: 'Jeevan Gaurav Puraskar' by International Logevity Centre, India.
2012: 'Maharashtra Sahitya Parishad Puraskar' for the book 'Reshatan' written by S D Phadnis.


Many of his cartoons have been exhibited and published by the International Salon of Cartoons, Montreal, Canada.

Some cartoons have also been published in periodicals of USA and Germany.
S D Phadnis has designed the cover of the Diwali Special issue of the Mohini magazine, for every year since 1952.